Wrapping up 2020-2021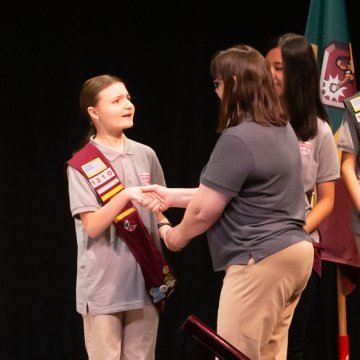 We recently celebrated completing our first year as Shepherd's Girls, recognizing the accomplishments of our member girls. There was a lot to be learned by girls and adults in this exciting year.
Our Topaz and Sapphire elementary age girls completed the first three of their modules: Family & Home, First Aid, and Outdoor Explorer. They received their first petals signifying completion. The girls in these levels who completed these three modules, our fall elective badge, and participated regularly in our meetings were also recognized with the first batch of Ruby Awards. These awards are presented annually to each elementary girl who has been active and completed the basic activities during the meeting year. Girls aging out of a level who completed a variety of experiences within the ministry's emphases were recognized for their accomplishments with the first Gem Awards.
The Emerald/Diamond middle/high group also completed a number of items. As a group, they completed core badges: First Aid and Outdoor Explorer. Girls advanced through the ranks of this group, with many completing the Forest Rank and Hill Rank. Girls who have been with 1210 longer also advanced to the Mountain Rank and Summit Rank. These tiered ranks represent the girl's progression through the various elements of the ministry, including badgework, outdoor experiences, service and leadership, and faith and discipleship series.
Girls of all ages were recognized for their completion of our study this year on the Fruits of the Spirit.